Inspiring Seminars
HOME
/
Inspiring Seminars
/
Certified Programmes
/
Certified Master Trainer Accelerated Program 2019
Certified Master Trainer Accelerated Program 2019
Learning Outcomes
Train-The-Trainer (TTT) Accelerated Training Program
Train-the- Trainer (TTT) AcceleratedTraining Program designed to accelerate your success to be a Master Trainer/Leader with the special ability to Build Your Training & Public Speaking Potential.
But,first the change must begin with you. Therefore,expect personal transformation because of close guidance from Dato' Dr Lawrence Walter Ng personally.
That's why this training is different.
What if you could influence better and convince more strategically? Would your results improve? This training is the solution and has been attended by many successful trainers and leaders.
Invest 3 days and 3 months with International Chief Master Trainer,Dato' Dr Lawrence Walter Ng to learn:
The 7 levels of Master Training
The Psychology of Mastering NLP Communication
The Secret Art of Influencing, the Unique Skills of
the Master Trainer
The untold secrets of Masterful Training using NLP,
Accelerated Learning, Co-operative Learning and
AOL
Learning Outcomes
How to create a training / learning environment using suggestopedia
and impactful stimulations.
Master the language of a successful Master Trainer
How to influence people in your training.
Techniques to improve the power of your voice.
Understanding the whole brain learning technology to achieve maximum
influencing.
Understanding the mind of your audience.
Establish the Delivery vs Content mindset.
Using powerful communication skills to enhance the effectiveness of your
training.
Be an Impactful Presenter and Master Trainer.
3 Days Impactful Course Contents
With this powerful treasure of guide knowledge, participants will deliver impactful Presentation Skills, Learn Creative & Interactive Technology and become a highly engaging Master Trainer.

USING THE POWER OF NLP TO HIGHLY IMPACT YOUR TRAINING AND PRESENTATION
LEARN IN A DEEP MANNER.

3 synergistic training strategies of NLP,AOL & mindset games.
You will learn 10 powerful life changing games

NLP AUDIENCE ENGAGEMENT

Techniques to energize and emotionally move your audience
90 Days Internship
Practise with creative role plays to master the art of influencing / facilitation of transformation.
How to be the professional master trainer in action.
What our Graduates would like to share with you
"Through TTT by Dato' Dr Lawrence, I have great confidence to speak dynamically to thousands.
And the participants love my training. Wow! What a wonderful way to share my success with
people."
~MahadiBZ, 1st TOT (Top of The Table) in CWA-AIA malaysia, for 2012 and 2015
" Dato' Dr Lawrence Walter's TTT transform me from a shy person to a dynamic trainer on stage.
I can inspire people and create so much interactive fun and learning in all my classes. I couldn't
believe myself but it is true! You can change your life with TTT"
~ ~ Dr Bochi/ Siti Zainab Mohd Zaini , Elite Group of Companies
"This TTT programme has positively transformed mindset, performance and grant us the energy
in moving forward. Thank you Dato' Dr Lawrence and his team."
~ Dr Zainal Abu Zarim, VP, Learning & Development Division, Telekom Malaysia Berhad
About The Company – Lawrence Walter Seminars
For over 28 years, Dr Lawrence Walter Ng and his team of Master Trainers & supportive 'angels' has brought his action-packed, high energy training seminars to over 500 companies in 10 countries around the Asia Pacific region.
Now you can experienced why he is one of Asia's top speakers & Master Trainer. You too can invite him to your company or country and allow your people to discover their hidden potential. he will give you the KEY to success that will unlock the POWER inside you. We also invite you to view his Books, listen to the interesting Audio and watch the awards-winning Videos in our unique website.

Trainer Info
DR LAWRENCE WALTER NG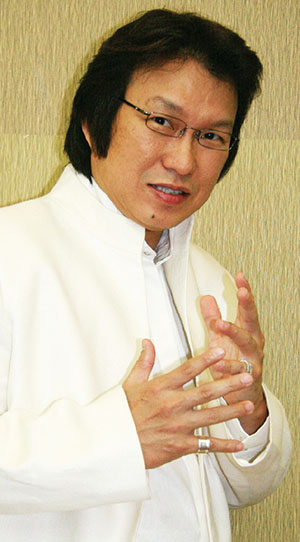 CHIEF MASTER TRAINER
AOL CO-FOUNDER, AUTHOR
CHIEF

MOTIVATIONAL SEMINAR

STRATEGIST
President of AOL, IILWL, LWMTA, AMSPA
Founder of Lawrence Walter Seminars
Popular speaker at National and International Convention
Over 28 years of training and consulting experience
One of Asia's Top Speakers and Master Trainers
Train Fortune 500 companies in 10 countries
Spoken over 1,000,000 participants
Winner of JCI World Award in Commercial Education
Author of Passion of Extraordinary Performance, The Art of Learning, The Mental Warrior
Specialized knowledge in Active Audience Participation Learning Technology (AAPLT)
In Depth understand of the Art of Accelerated Learning to enhance memory
Intense Research on linking knowledge to the targeted human experience
Highly Acute Ability to sense and Transform Behavioral Patterns
Lead Designer of Strategic and Creative Games to evoke old habits and replace with new mindsets and patterns
Specialist with extensive experience in Total Transformation Learning (TTL), combinign 3 levels of learning from the mind, psychology and emotion
Dr Lawrence Walter Ng has been described as a dynamic and inspiring motivational speakers. Through his creative presentation and humor, his audience have not only benefited tremendously from his teaching but also thoroughly enjoyed themselves. Thus, making learning interesting and effective. The impact of his lively training and concepts have generated greater energy and direction towards the challenge of excellence. Organisations and individuals have improved their performances with his training.
Dr Lawrence Walter Ng has over 28 years experience in training and developing people. He was an advertising, marketing and creative consultant and began his focus on training in 1986. Since then, he has personally spoken to more than 1,000,000 participants.
His unique methods of training and ideas are designed to take participants on an exciting journey of learning excellence. He has also produced an Innovative Self learning package on Corporate Excellence and Personal Self Improvement.
Dr Lawrence Walter Ng also founded the concept of the Mental Warrior, an advanced workshop on Brain Power Motivation and Psychology of Success. Through his research and experience, he discovered certain patterns of excellence that produce effective results through the understanding of both positive and negative thoughts.
Dr Lawrence Walter Ng is one of Asia's top speakers and Chief Master Trainers.
You may DOWNLOAD the Latest Brochure HERE
© 2019 Copyright Lawrence Walter Seminars. All Rights Reserved. |
Sitemap