Dato' Dr Lawrence Walter Ng
International Chief Master Trainer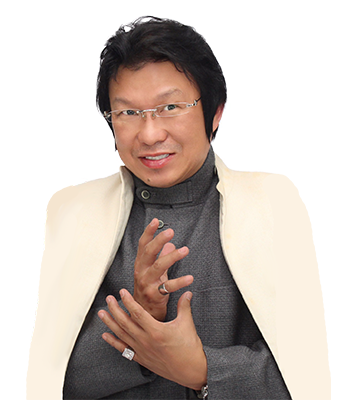 AOL CO-FOUNDER, AUTHOR
CHIEF MOTIVATIONAL STRATEGIST
President of the AOL, IILWL, LWMTA, AMSPA
Founder of Lawrence Walter Seminars
Popular speaker at National and International Convention
Over 30 years of training and consulting experience
One of Asia's Top & International Chief Master Trainer and

Master Trainers

Trains Fortune 500 companies in 10 countries
Spoken over 2,000,000 participants
Winner of JCI World Award in Commercial Education
Author of Passion for Extraordinary Performance, The Art Of Learning, The Mental Warrior
Specialised knowledge in Active Audience Participation Learning Technology (AAPLT)
In-depth understanding of the Art Of Accelerated Learning to enhance memory
Intense Research on linking knowledge to the targeted human experience.
Highly Acute Ability to Sense and Transform Behavioral Patterns.
Lead Designer of Strategic and Creative Games to evoke old habits and replace with new mindsets and patterns.
Specialist in Total Transformation Learning (TTL) with extensive experience, combining 3 levels of learning from the mind, physiology and emotion.
DATO' DR LAWRENCE WALTER NG has been described as a dynamic and inspiring speaker. Through his creative presentation and humor, his audience have not only benefited tremendously from his teaching but also thoroughly enjoyed themselves. Thus, making learning interesting and effective. The impact of his lively training and concepts have generated greater energy and direction towards the challenge of excellence. Organisations and individuals have improved their performances with his training.
Dato' Dr Lawrence Walter Ng has over 31 years experience in training and developing people. He was an advertising, marketing and creative consultant and began his focus on training in 1986. Since then, he has personally spoken to more than 2,000,000 participants.
His unique methods of training and ideas are designed to take participants on an exciting journey of learning excellence.
He has also produced an Innovative Self Learning package on Corporate Excellence and Personal Self-Improvement.
Dato' Dr Lawrence Walter Ng also founded the concept of the Mental Warrior, an advanced workshop on Brain Power Motivation and the Psychology of Success. Through his research and experience, he discovered certain patterns of excellence that produce effective results through the understanding of both positive and negative thoughts.
An Inspirational Master Trainer since 1986
Dato' Dr Lawrence Walter Ng has successfully conducted outstanding, award winning corporate trainings for over 2,000 organisations in 10 countries around the world. His customisation training solutions & strategic motivational modules have inspired the Leaders & employees to grow their organisations both in revenue & profits. Many organisations have achieved outstanding breakthrough results and demonstrated turnaround capabilities until some of the training attained national & government recognition. Some of his achievements are:-
INSPIRING LEADERS
After going through a series of training by Dato' Dr Lawrence Walter Ng, Corporate Leaders together with their team, have transformed to a more caring and inspiring Leadership style that greatly promotes the teaming spirit, the winning mindset, the innovative solution seeking attitude and the intense focus on customer satisfaction on the long term.

INSPIRING EMPLOYEES
Many of the employees who have experienced the trainings conducted by Dato' Dr Lawrence Walter Ng has greatly contributed to both their corporations and nation by their immense commitment to drive the Greater Purpose in the quest for corporate excellence. When they are inspired by Dato' Dr Lawrence Walter Ng, they seek out their Greater Potential within themselves so that each day it many different ways, they will do a little bit more for their company, community and especially their families. The results of them attending the training and reading the inspiring literature written by Dato' Dr Lawrence Walter Ng has lead them to grow their performance and spirit to help other people become better in their approach to achieve success for everyone.

INSPIRING TRAINING MODULES
The Training modules created by Dato' Dr Lawrence Walter Ng is unique, practical and affects the individual both in mindset and the heart- Famously called the Passion for Extraordinary Performance. They emphasise on a complete and wholistic approach to developing the individual so that responsibility, respect, commitment and integrity are all synergised together to inspired a more balanced individual seeking for success.

INSPIRING SPIRIT OF TOGETHERNESS
They are also constantly trained in many aspects of teaming together, supporting each other so that they are always enhancing the Spirit of ONE-ness in the organisation.
Eventually, after going through the training by Dato' Dr Lawrence Walter Ng, they will gradually eliminate the silo-ness in their work place, expand the comfort zones of performance levels and break the self-limiting beliefs of only producing expected results in a business environment of dynamic change and aggressive competition.

INSPIRING TRAINING PROGRAMME
Some of Dato' DrLW famous training programmes that have won numerous and recognised awards based on achievements of results and ROI on training are:

Teaming with Passion Training
Quantum Leadership Training
Passion for Extraordinary PerformanceTraining
The Mental Warrior
The Sales Conqueror
The LWS Master Trainer-the Trainer Programme
These programme specially created by Dato' Dr Lawrence Walter Ng encompasses
4 main and critical aspects
of
positive change
:
The Right Mindset
The Right Skills
The Right Strategies
The Right Thinking
INSPIRATIONAL BOOKS
Using his valuable experience with many world class organisations like Microsoft, Starbucks, HSBC Bank, GE Medical, Mitsubishi, BYD etc., he decided to help people understand his techniques more by developing 12 unique books and learning materials. Some of his best-selling titles are:

Passion for Extraordinary Performance
Be Motivated Forever
The Art of Learning
The Greater Purpose
Inspiration of Daily messages
Many people who have read his books have said that his materials are a constant reminder to be inspired and help others to be extraordinary.
INSPIRING THE YOUNG
For the last 31 years Dato' Dr Lawrence Walter Ng has designed and created a learning program for students from the ages of 9 years – 19 years old. The focus of this training is to mould their young minds to be thinking students, score better results in schools and develop their leadership skills. Many of such students are now corporate leaders, millionaires and successful achievers in their own lives.
He co-sponsored a learning project to inspire more than 30,000 students together with the local media and government agencies.

INSPIRING TRAINING TECHNOLOGIES
To ensure that participants from corporation learn in an enjoyable and practical way, Dato' Dr Lawrence Walter Ng developed creative learning techniques and many useful systems to encourage full participation. When applied in the training, participants are able to be engaged fully and understand the messages in a positive memorable experience. His famous training technologies include:
Co-operative Learning technology (CLT)
– Incorporating team learning
Innovative Games Technology (IGT)
– Thinking games that reflect a person's behaviour to create the opportunity to change faster.
The Art of Learning Technology (AOLT)
– Infusing accelerated learning technique so that the knowledge is easily understood, memorised and applied effectively in the real work place.
Visual Learning Technology (VLT)
– Designing materials, slides and tools to created almost instant recognition of the concepts and long term retention of the inspiring idea.
INSPIRING TRAINERS TO BE MASTER TRAINERS
For the last 15 years, many people admired and were amazed at the results achieved in the training conducted by Dato' Dr Lawrence Walter Ng. Many approached him to learn. In 2005, the LW Master Trainers Academy was incorporated with the ultimate objective to share the experience, technology and knowledge to selected people who aspires to be like Dato' Dr Lawrence Walter Ng.
This unique 5 months train-the–trainer programme resulted in many corporations and individuals being trained personally and certified by Dato' Dr Lawrence Walter Ng.
Today, companies such as Telekom Malaysia, Genting Berhad, Malaysia Airports, SAP Academy, Agilent Technology and etc., have had their key people trained to be Master Trainers in their organisations so that they can conduct the LWS training to thousands of their employees.
LWS – THE INSPIRING ORGANISATION TO INSPIRE OTHER ORGANISATIONS
Today, Lawrence Walter Seminars founded by Dato' Dr Lawrence Walter Ng is celebrating its 31 years of history and inspired more than 2,000,000 people from 2,000 organisations in over 10 countries such as Malaysia, Singapore, Indonesia, Thailand, Australia, China, Guam, Philippines, Taiwan and etc.
The organisation is supported by a dedicated team of 24 certified Master trainers, certified facilitators and certified consultants.
Recently, LWS was awarded The Best Team Building Award by the Human Resource Organisation of Malaysia & Singapore for the year 2015.
In August 2016, LWS won Asia's Best Brand Award for Training.
For of all lists of the companies, please go to www.lwseminars.com.
INSPIRING AWARDS
Dato' Dr Lawrence Walter Ng has always focused on helping organisations to achieve breakthrough results by aligning the mindset of the people in the organisation to over-achieve the road-map.
Some of the outstanding Awards and recognition of Dato' Dr Lawrence Walter Ng training strategies and efforts are from: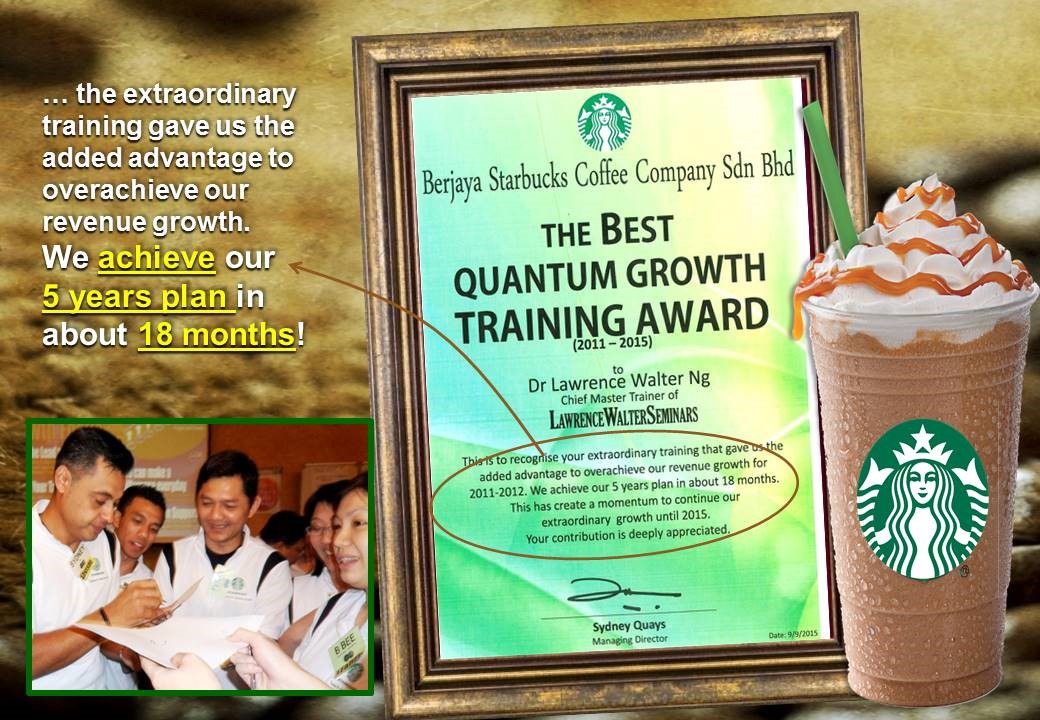 Berjaya Starbucks Malaysia
Dato' Dr Lawrence Walter Ng inspired the company to have strong focus on Customers for Life Mindset, Teaming Spirit and Team Leadership. They were able to achieve the 5 years roadmap in only 1½ years.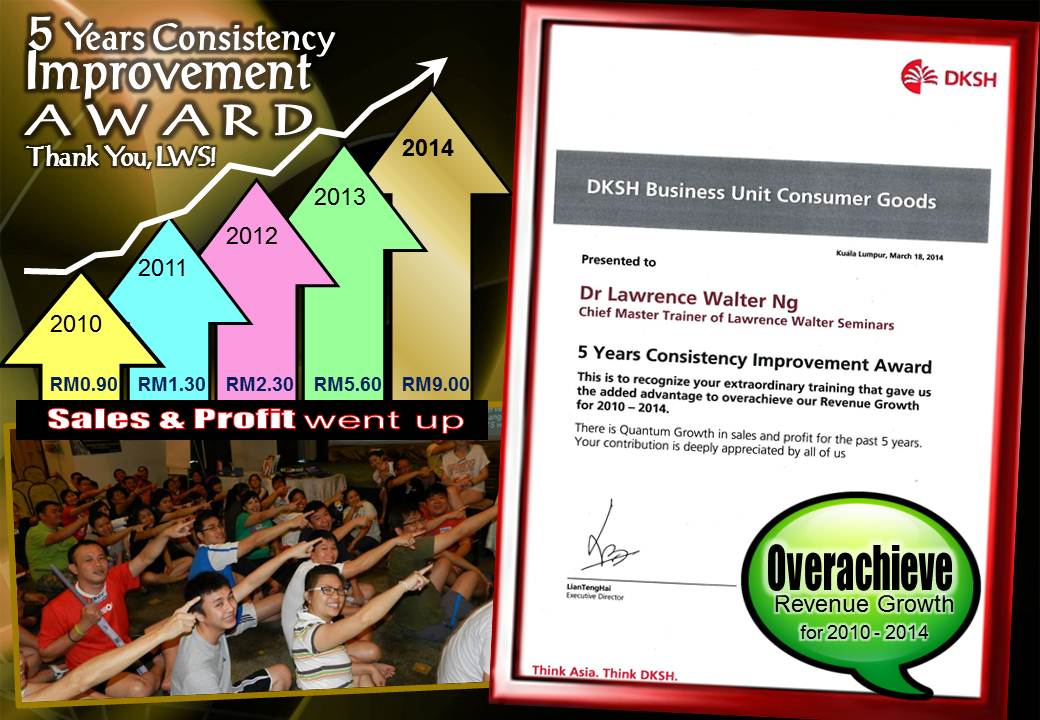 DKSH Malaysia
Dato' Dr Lawrence Walter Ng inspired the company from a loss position to profit making every year. Dato' Dr Lawrence Walter Ng trained them on the Winning Mindset, One Team Spirit and Master Selling Techniques.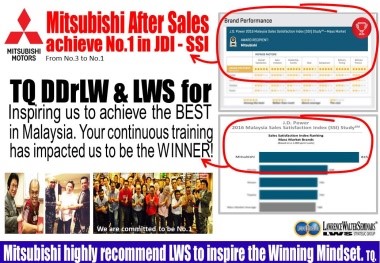 Mitsubishi Malaysia
Dato' Dr Lawrence Walter Ng inspired them to dream of being the No.1 after sales/Service Team from a position of No.3. They were awarded the No.1 position on October 2016 by JD Power. Dato' Dr Lawrence Walter Ng transformed them using the modules of Mental Warrior, Customers for Life, Customer Service Communication, Customer Engagement & Relationship strategies.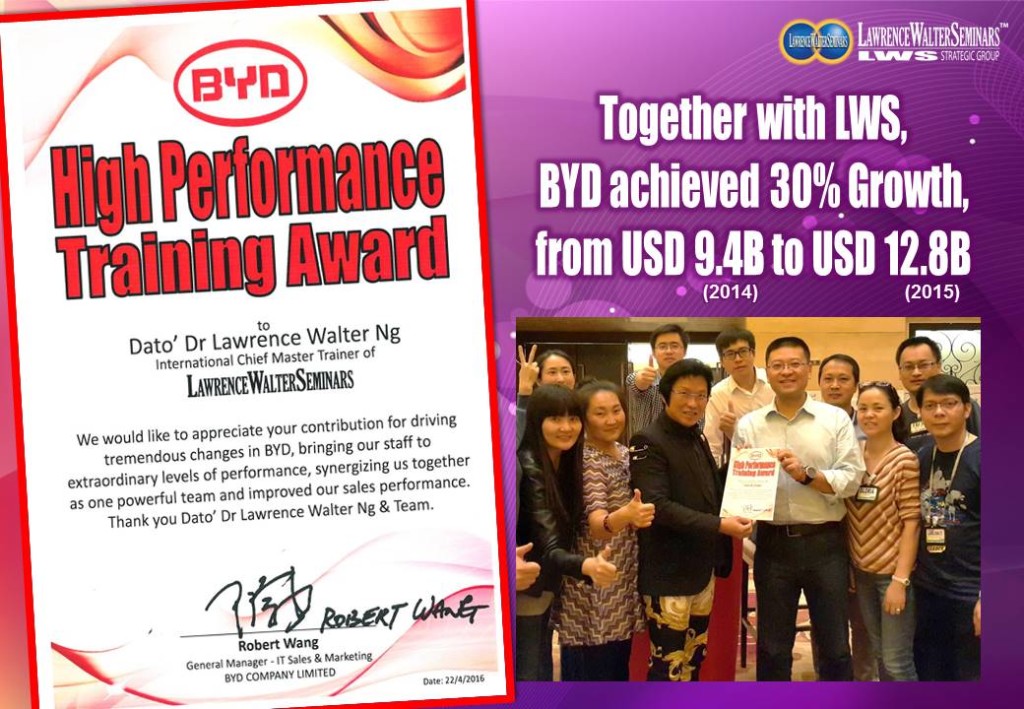 BYD China Ltd.
Dato' Dr Lawrence Walter Ng inspired the company to breakthrough results using an incredible & daring roadmap to achieve dominance in the electric car world map. In 2016, BYD overtake Tesla and grew its IT Business by more than 35%. The training strategies designed by Dato' DrLW were to focus on Mastering Change, Innovation Approaches, Super-E Winning Mindset and Teaming Spirit.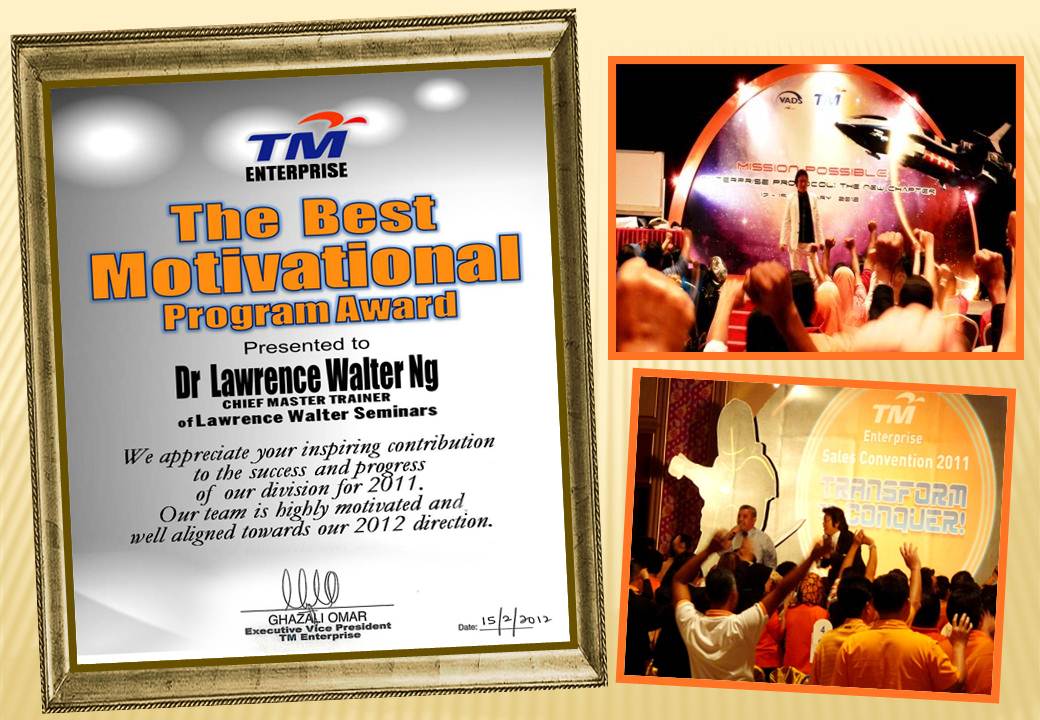 Telekom Malaysia Berhad
Dato' Dr Lawrence Walter Ng inspired TM to begin the journey from analogue to digital to high speed broad band at an incredible acceleration. The training designed by Dato' Dr Lawrence Walter Ng was code-named TWP or Teaming with Passion, become the DNA of the company to increase Productivity, Innovation, Customer Centricity and the Mental Toughness Spirit.

INSPIRING RECOGNITION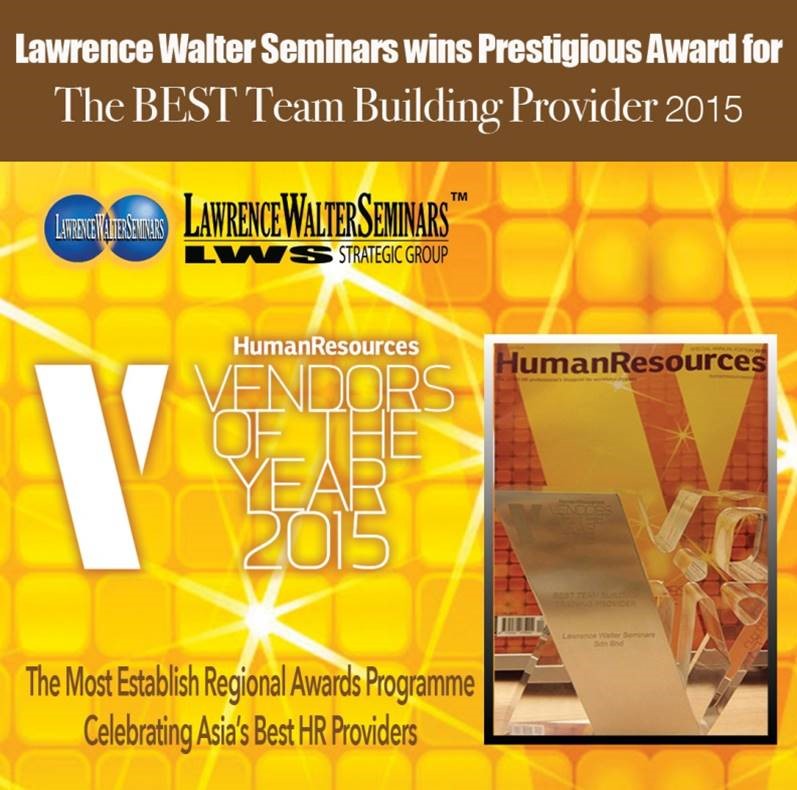 Best Team Building Training Award by Human Resource Malaysia & Singapore 2015.
LWS was given the honours of the silver award for the achievement in innovative training methodology & training results.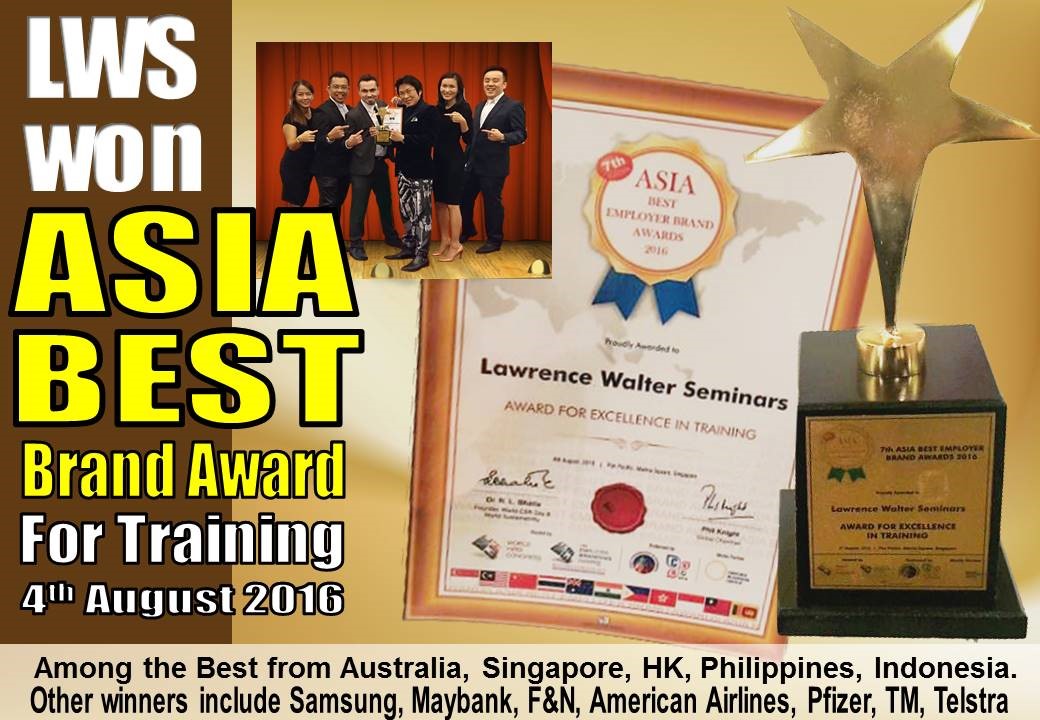 Winner of Asia Best Brand Award for training
In August 2016, LWS won the Award for their outstanding contribution to human talent development and being recognised as the top training provider.

INSPIRING CONTRIBUTION TO SOCIETY
Through the leadership and vision of Dato' DrLW, he and his team of Master Trainers have given many community-based trainings, workshops and conferences inspiring thousands of students, teachers and especially parents to be positive, motivated and be successful in their lives.
These events were held in schools, colleges & universities across Malaysia. He has also appeared in several newspapers, radio interviews and TV appearances to share his most inspiring messages on Be Motivated Forever.
THE INSPIRING VISION
Dato' Dr Lawrence Walter Ng is recently engaged by many companies to transform them into World Class Organisation. His recent projects include Proton, KTMB, TNB, BMW and Tan Chong Motors.
His wealth of experiences and knowledge will be further authored into 5 more books and creative learning materials in the next 3 years.
Because of his passion to help people achieved higher levels of skills in leadership, sales and training, he will focus his energy to also set up various institute to enhance this development.
The International Institute of Learning without Learning.
Asia Master Sales Academy
LWS Master Trainers Academy
The Art of Learning & Leadership
IN SUMMARY
Dato' Dr Lawrence Walter Ng has been recognised as an International Master Trainer. He has contributed tremendously to millions of people and thousands of organisations across ASIA through his trainings, Books and other learning materials.
He is well known for his unique creative presentation and extremely inspiring training programmes.
© 2020 Copyright Lawrence Walter Seminars. All Rights Reserved. |
Sitemap
Lawrence Walter Seminars (LWS) was founded by Dato' Dr Lawrence Walter Ng. For over 34 years, the LWS Unique Training Methodology and modules, including the training format has been trademarked and copyrighted. Any usage must first go through a written application for consent of the owner of the rights. Otherwise, the user and suspected company involved in the infringement of intellectual property will be subjected to legal and hefty financial penalty implications.