Certified Quantum Growth Leadership Programme
Leadership Training Programs In Malaysia
This is a Master Class Certification Program in Leadership by LWS
Corporate leadership training is tailored to focus on many areas and one of them is the leadership training. Leadership training programs in Malaysia is getting more and more important in today's world. No matter you are managers, senior manager, supervisor, CEO or a normal employee, our training programmes are suitable for everyone to join. Just like the sales training, our Certified Quantum Growth Leadership Programme consists of 4 stages such as Transformational Leadership Training, Quantum Leadership Training, Creative Leadership Training and Inspiring Leadership Assessment and Certifications.
In the early stage of this training, self-improvement and transformation is necessary to overcome one's limitations and improve the leadership qualities within each individual. Personal improvement is closely related to the overall development, therefore elevates the transformational leadership skills and communication effectiveness for building rapport with team members. The second stage of our leadership training programs is to help leaders thrive in the diverse environment. At the end of stage 2, participants will gain a new and broader perspective on their characteristics as well as roles. Furthermore, the third stage is to help participants to develop creative leadership skills for successful innovation and creativity. This stage emphasizes on a wide range of creative techniques to unlock hidden potential and go beyond the ordinary. In other words, this stage will engage participants in higher-order thinking skills which allow them to handle complex situations. In the final phase of this training, assessment will be conducted to test the comprehension levels of participants throughout the training. Our detailed assessments enable participants to know their strengths and weaknesses. Of course, after the completion of the training, certificates of participation will be awarded to each of the participants. After all, our corporate training is practical and fun, where everyone can master vital skills and transform to be exceptional leaders in every area of life.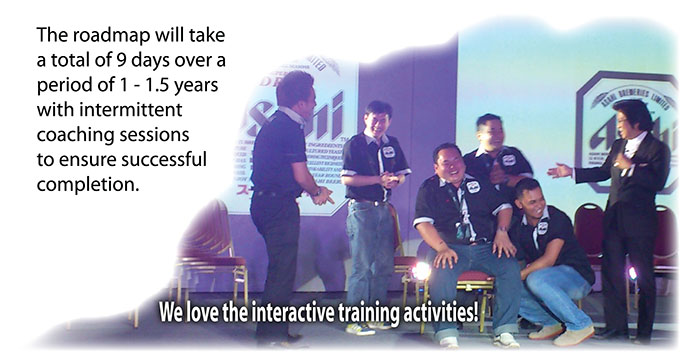 The roadmap will take a total of 9 days over a period of 1 – 1.5 years with intermittent coaching sessions to ensure successful completion.
© 2020 Copyright Lawrence Walter Seminars. All Rights Reserved. |
Sitemap
Lawrence Walter Seminars (LWS) was founded by Dato' Dr Lawrence Walter Ng. For over 34 years, the LWS Unique Training Methodology and modules, including the training format has been trademarked and copyrighted. Any usage must first go through a written application for consent of the owner of the rights. Otherwise, the user and suspected company involved in the infringement of intellectual property will be subjected to legal and hefty financial penalty implications.