Inspiring Seminars
HOME
/
Inspiring Seminars
/
Certified Programmes
/
Certified Quantum Train-the-Trainer Programme
Certified Quantum Train-the-Trainer Programme
An Advanced Train-The-Trainer Professional Program
An Advanced Train-The-Trainer Professional Program
An advanced master trainer course of the Certified Train-The-Trainer Program, 5 Days intensive training followed by 4 months of internship. Upon graduation, participant will be certified by LAWRENCE WALTER SEMINARS and OPEN UNIVERSITY MALAYSIA.
Transform your training competency with the skills, knowledge and powerful tools to design and deliver impactful training with Synergistic Training Strategies, the Secret Art of Influencing, the skills of the Master Trainer through motivational seminar, Creative Training Tools through Innovative Learning and most importantly the untold secrets of Masterful Training.
Who Should Attend
Aspiring Trainer Speaker
Internal Trainer in an organization
Training / Human resource Managers
Entrepreneurs / Business Owners
Team Leader / Agency Managers
Learning Outcomes
How to create a training / learning environment using suggestopedia and impactful stimulation.
Proficient in a language of a successful

master trainer

How to influence people and lead them to change through

motivational seminar

The ability to facilitate creative, action-learning thinking games
Increasing your range to tonalities and expanding the use of your voice and body language
How to set achievable outcomes through developing behavioral flexibility
Understanding the whole brain learning style to create optimism in learning
Understanding your audience process information consciously and unconsciously and identify learning challenges
The ability to differentiate between the process and the content
How to solicit consensus that produces desired response for people to learn effectively
Shifting your awareness to be able to calibrate where the audience is at from moment to moment
Using pace and lead skills to enhance effectiveness of presentation
Gain more elegance and confidence to deliver impactful training or presentation
5 Days Course Contents
With this powerful treasure of guide knowledge, participants will deliver impactful Presentation Skills, Learn Creative & Interactive Technology and become a highly engaging Master Trainer.

Foundation of Training:This topic teaches the "how-to" review the belief system of the audience and understand the psychological influences of the brain for training effectiveness.The power to determine training outcomes becomes achievable if you can identify the training objectives and the total training concept.
Synergistic Training Strategies:Essential success proven strategies and applications to create learning impact and powerful presentation.
Power Communication Training:Insight into the cause behind poor engagement or communication with your audiences, and the reverse process that leads to effective communication. You will also learn the strategies to the trainer-audience relationship.
AOL Learning Psychology:Developed since 1986, the Art of Learning & Leadership system is recognized concept for total learning. This topic also includes framework mind-mapping, emotional management in the learning process and creating the achieving personality for audiences to learn effectively.
Inner Motivation Techniques for Trainer and Audience:This topic equipped the trainer with the most powerful and inspiring tools to motivate your audiences and by using these techniques, one transform into a professional trainer.
Creative Training Tools Through Innovative Learning:Introduced and taught to apply various simulations, games and the power of visual for creative and super learning environment that win your audiences and outperform the conventional conduct of training.
Art of Influencing / Facilitation:Increase your learning effectiveness, audience participation and transformation results with various methods, skills and models that will increase audience participation, learning output as well as the transformation process.
The Professional Total Trainer in Action:The ultimate that synergize the total qualities of the professional trainer to maximize total training outcomes.
* 100% Taught by Dr Lawrence Walter Ng
* Designed As the Most Practical Training
* The Best Train-The-Trainer Syllabus
* Accumulated 28 years of Training Experience
4 Months Internship
Fulfill a minimum 4 days after the 5 days course with Dr Lawrence Walter Ng in order to be certified.
Opportunity to observe live training conducted by Dr Lawrence Walter Ng, and gain instant practical tips in a running a training in future.
At the end, you will be certified as a Master Trainer or even Chartered Master Trainer depending on your standards.
What our Graduates would like to share with you
"Dr Lawrence Walter's TTT transfrom me from ashy person to a dynamic trainer on stage. I can inspire people and create so much interactive fun and learning in all my classes. I couldn't believe myself but it is true! You can change your life with TTT."
~ Siti Zainab Mobd Zaini. Elite Group of Comapnies
"Through TTT by Dr Lawrence, I have great confidence to speak dynamically to thousands. And the participants love my training. Wow! What a wonderful way to share my success with people"
~ MahadiBZ, 1st TOT (Top of The Table) in CWA-AIA malaysia, for 2012 and 2013
"This TTT program has positively transformed mindset, performance and grant us the energy in moving forward. Thank you Dr Lawrence and his team"
~ Dr Zainal Abu Zarim, VP Learning & Development Division, Telekom Malaysia Berhad
About The Company – Lawrence Walter Seminars
For over 28 years, Dr Lawrence Walter Ng and his team of Master Trainers & supportive 'angels' has brought his action-packed, high energy training seminars to over 500 companies in 10 countries around the Asia Pacific region.
Now you can experienced why he is one of Asia's top speakers & Master Trainer. You too can invite him to your company or country and allow your people to discover their hidden potential. he will give you the KEY to success that will unlock the POWER inside you. We also invite you to view his Books, listen to the interesting Audio and watch the awards-winning Videos in our unique website.

Trainer Info
DR LAWRENCE WALTER NG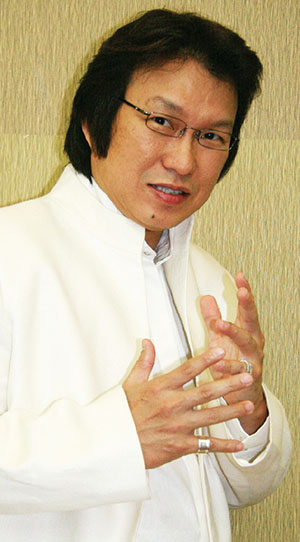 CHIEF MASTER TRAINER
AOL CO-FOUNDER, AUTHOR
CHIEF

MOTIVATIONAL SEMINAR

STRATEGIST
President of AOL, IILWL, LWMTA, AMSPA
Founder of Lawrence Walter Seminars
Popular speaker at National and International Convention
Over 28 years of training and consulting experience
One of Asia's Top Speakers and Master Trainers
Train Fortune 500 companies in 10 countries
Spoken over 1,000,000 participants
Winner of JCI World Award in Commercial Education
Author of Passion of Extraordinary Performance, The Art of Learning, The Mental Warrior
Specialized knowledge in Active Audience Participation Learning Technology (AAPLT)
In Depth understand of the Art of Accelerated Learning to enhance memory
Intense Research on linking knowledge to the targeted human experience
Highly Acute Ability to sense and Transform Behavioral Patterns
Lead Designer of Strategic and Creative Games to evoke old habits and replace with new mindsets and patterns
Specialist with extensive experience in Total Transformation Learning (TTL), combinign 3 levels of learning from the mind, psychology and emotion
Dr Lawrence Walter Ng has been described as a dynamic and inspiring motivational speakers. Through his creative presentation and humor, his audience have not only benefited tremendously from his teaching but also thoroughly enjoyed themselves. Thus, making learning interesting and effective. The impact of his lively training and concepts have generated greater energy and direction towards the challenge of excellence. Organisations and individuals have improved their performances with his training.
Dr Lawrence Walter Ng has over 28 years experience in training and developing people. He was an advertising, marketing and creative consultant and began his focus on training in 1986. Since then, he has personally spoken to more than 1,000,000 participants.
His unique methods of training and ideas are designed to take participants on an exciting journey of learning excellence. He has also produced an Innovative Self learning package on Corporate Excellence and Personal Self Improvement.
Dr Lawrence Walter Ng also founded the concept of the Mental Warrior, an advanced workshop on Brain Power Motivation and Psychology of Success. Through his research and experience, he discovered certain patterns of excellence that produce effective results through the understanding of both positive and negative thoughts.
Dr Lawrence Walter Ng is one of Asia's top speakers and Chief Master Trainers.
© 2020 Copyright Lawrence Walter Seminars. All Rights Reserved. |
Sitemap
Lawrence Walter Seminars (LWS) was founded by Dato' Dr Lawrence Walter Ng. For over 34 years, the LWS Unique Training Methodology and modules, including the training format has been trademarked and copyrighted. Any usage must first go through a written application for consent of the owner of the rights. Otherwise, the user and suspected company involved in the infringement of intellectual property will be subjected to legal and hefty financial penalty implications.